Surfers' Hall of Fame

SURFERS' HALL OF FAME WELCOMES SAM HAWK, JANICE ARAGON AND KAI LENNY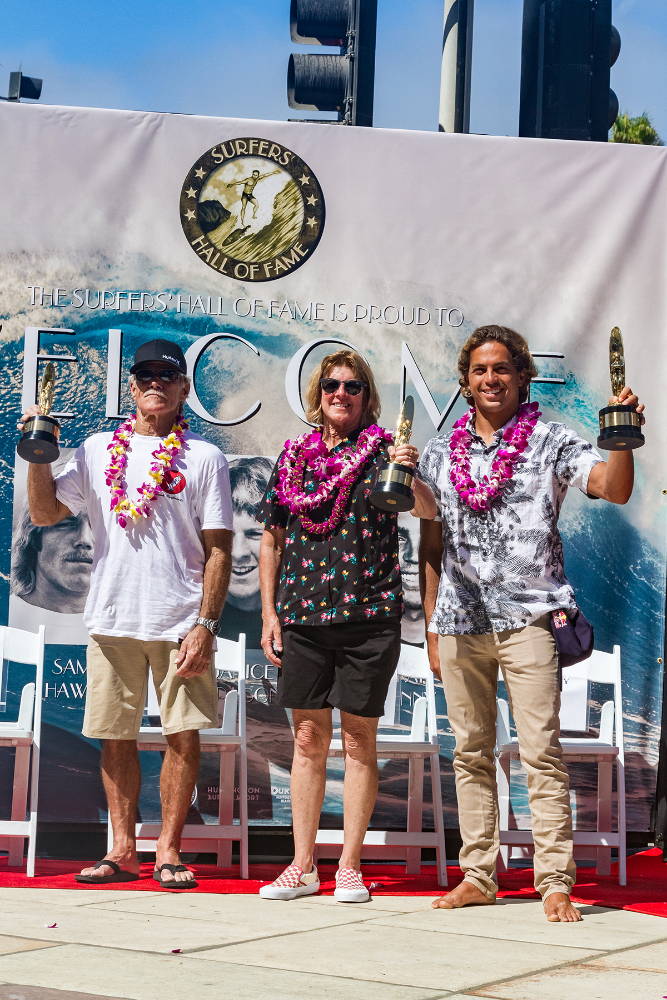 ---
HUNTINGTON BEACH, Calif. – Friday, August 2, 2019 – The surfing world turned out in force today to honor 2019 Surfers' Hall of Fame inductees Sam Hawk, Janice Aragon and Kai Lenny. All three now have their hand and footprints immortalized in cement for the ages in front of Huntington Surf & Sport at the corner of PCH and Main Street.  
 
Sam Hawk was a standout power surfer in the 1970s and part of the renowned Hawk surfing clan that includes Tom and their late brother Chris. Janice Aragon was winner of the ISA World Surfing Games and NSSA Nationals and current executive director of the NSSA. And Kai Lenny is a champion big wave surfer, stand-up paddle surfer and racer, surfer, tow-in surfer, windsurfer, kitesurfer and overall watersports enthusiast.
 
The ceremony began with the traditional blowing of the Pu or Conch Shell to chase out the bad vibes and welcome the good. Sher Pai, wife of Surfers' Hall of Fame founder Aaron Pai, followed with a passionate prayer blessing the trio of inductees and everyone in attendance. Huntington Beach Mayor Erik Peterson added, "Surfing is in our DNA. This tradition (the Surfers' Hall of Fame) is something that we all love. It's just a blessing that we have it here."
 
Former pro surfer and event emcee Todd Kline, formally introduced Aaron Pai and the festivities were underway. "AP" wished his mother a happy 92ndbirthday and thanked his sons Trevor and Taylor along with daughter Ashlyn. He then greeted the industry, surfing royalty, dignitaries and the inductees themselves. Sam, Janice and Kai, you guys are about to get a little concrete on you. Hope you don't mind!"
 
Eternal grom Pai told the crowd that when he was a kid in Junior High School that, "Sam Hawk swam around the pier in a Speedo during the winter to train. Janice dedicated her life to raising the bar. She's been a machine. And Kai, he's the greatest waterman of all time, taking the world of surfing to a new level."
 
Attendees included surf industry titans Bob Hurley (Hurley), Andy Verdone (HB High School surf team coach) and Brett Barnes (Dukes). Huntington Beach brass included mayor Peterson and former mayors Jill Hardy, Don MacAllister and Dave Garafalo, City Manager Fred Wilson, Police Chief Robert Handy and Marine Safety Chief Michael Baumgartner among dozens of friends, family and dignitaries. Surf Legends in attendance included former world champion Peter "PT" Townend along with Chuck Linnen and Jerico Poppler. The younger generation was represented by Sage Erickson, Timmy Reyes and Alex Gray.

The first inductee was Sam Hawk. Born in 1950 in South Gate, Hawk first started surfing at age fourteen in Huntington Beach. As one of the renowned Hawk surfing clan that includes Tom and their late brother Chris, Sam helped shape the local surf culture in the 1960s and '70s. He moved to the North Shore of Oahu, Hawaii in 1967 and by 1971 had firmly established himself as the most advanced regular footer surfer at the Banzai Pipeline as well as a key pacesetter at both Sunset Beach and Rocky Point. Known for riding massive waves with complete and startling abandon, Sam finished fourth at the 1972 Pipeline Masters contest and placed third in the 1974 Duke Kahanamoku Invitational Surfing Championship.
 
An apprentice of master surfboard shaper Dick Brewer in the early 1970's, Hawk went on to become a highly regarded board maker in his own right; initially making boards for the Brewer label before eventually branching out on his own. Sam continued to surf throughout the decades and was Cheyne Horan's tow-in partner during the enormous Biggest Wednesday swell that hit Hawaii's North Shore in January, 1998.
 
Rick "Rockin' Fig" Fignetti, also a Surfers' Hall of Fame inductee, introduced Hawk, "As a true Huntington Beach local who has shaped thousands of boards, stoking out surfers across the globe." Fig then told a funny story about when lifeguards began blackballing surfboards that were 4'6" or larger back in the 1960s. Hawk famously shaped a 4'5" board to beat the blackball.
 
Former world champion Jerico Poppler described the Hawk brothers, "as the cutest batch of blonde-haired guys. They were the nicest brothers. They were the image of the surfers of the future."
 
Sam had the standing room only crowd laughing when he described bringing home a 10 foot, hundred pound surfboard that he found behind a liquor store. They painted it bright yellow and waxed the bottom, thinking it was similar to skis. "My brothers and I surfed on that board every day that summer. That was the beginning of our surfing experience."
 
Hawk, whose late brother Chris was inducted in 2009, said "I'd like to thank the Surfers' Hall of Fame and Aaron Pai. I am happy to be here today." Hawk inscribed his stone with "John 3:16, go for it."
 
Next up was Janice Aragon. Born in 1955 in Fresno, California, and raised in Downey, Janice began surfing at age 15. A relative late bloomer to competitive surfing, Janice entered and won her first surfing contest in 1983 at age 29. Aragon was the mother of a two year-old daughter and an unheralded competitive surfer when she won the 1984 ISA World Championships in her hometown of Huntington Beach, helping lead the U.S. to a team victory. Janice had a second child in 1985, and the following year won the National Scholastic Surfing Association (NSSA) Nationals, one of amateur surfing's most prestigious events.
 
Aragon was hired as an NSSA competition judge in 1986, and the following year broke new ground, becoming the first woman to judge a professional world tour event, working the Op Pro Surfing Championship. Blazing more trails in the growing sport, Janice was hired as the NSSA's executive director in 1989. Aragon sent ripples into American amateur surfing when she splintered the NSSA away from the United States Surfing Federation in 1993, forcing surfers to choose competing in the better organized and talent-superior NSSA or working toward a U.S. world team slot through the USSF. The NSSA grew and prospered under Aragon's leadership in the mid- and late 1990s. Thousands of young surfers have gone through the NSSA ranks, later going on to myriad professions including doctors, lawyers and heads of surfing brands.
 
Former pro surfer Alex Gray introduced Janice. "I'm honored to be standing next to you today. Your passion to help kids achieve their goals be it surfing or in business is inspiring. Your NSSA platform helps prepare teens for adversity in life."
 
Sage Erickson added, "It's so important to have a strong foundation when we're young surfers. Janice provided that. She's left a lasting impression for so many of us." Bob Hurley stated that, "Janice runs the greated amateur surfing program ever." NSSA graduate Parker Coffin said of Janice, "She was our surf mom. Janice taught us what was important. There's no better person to run the NSSA."
 
Aragon thanked Aaron Pai and the Huntington Surf & Sport family for supporting her and the NSSA. "Once I started surfing at 15, I fell in love with it. The first contest that I won was the Huntington Beach City Contest and now HB is my home. When I took over the NSSA I made a promise that I would never stray from surfing and school. All the past and present kids stay a part of my life. I feel like the luckiest girl in the world to have this job." Janice inscribed her stone with "keep your dreams alive."
 
The final inductee was Kai Lenny. Born on October 8, 1992, Lenny's parent's dipped him in the Maui shorebreak before his first week on earth was complete. His skills as a waterman exploded soon thereafter. Lenny, whose name is derived from the Hawaiian word for ocean, learned to surf by age five, windsurf at six, stand up paddle at seven and kite surf at nine. He had his first sponsor before age 10. Lenny's mentors include windsurfing legend Robby Naish and big wave greats Laird Hamilton and Dave Kalama. Lenny is already one of the world's most accomplished watermen.
 
A runner-up at the Kite Surf Pro World Championships, Kai is a eight-time winner of the SUP (stand up paddle) world title. In 2014 Lenny finished fourth in the grueling 32-mile Molokai 2 Oahu (M2O) Paddleboard World Championships, the ultimate test of pain and paddling. The following year he came in second. After consulting with Kalama, Kai tweaked his equipment, training and race tactics. He trounced everyone at the 2016 race, setting a new world record in the process.
 
Following in the path of his pioneering mentors, Lenny has been riding Pe'ahi (Jaws), Maui's notorious big wave break, since he was 16. On May 2nd of this year, Kai won the WSL Big Wave Awards for Overall Performance and XXL Biggest Wave Award for his revolutionary session at Jaws last November. When the Jaws Challenge was postponed due to its monster waves being too large, the "Kai show" began and he served up one of his best performances to date. Lenny stunned the surfing world when he was towed into an absolutel behemouth then airdropped 20 feet coming off a cutback on the lip and stuck the landing.
 
Bob Hurley introduced Kai as, "The funnest guy I know. Many sports heroes exhibit machismo. Kai exhibits wonder and curiosity. There's no operations guy, no entourage. He's happy to be alive."
 
"It' really amazing to be here," Lenny said. "There's so many people to thank. It took a village to get here. When I first started surfing, there was that overwhelming feeling of riding waves. For me, it's always been about riding the waves." Kai's inscription read, "believe in yourself."
 
The Surfers' Hall of Fame induction ceremony pays tribute to those individuals who have made an indelible mark on the sport, industry and culture of surfing. Tens of thousands of visitors travel to Huntington Beach's downtown area and literally walk in the footsteps of surfing superstars and legends from several eras including Laird Hamilton, Andy Irons, Bethany Hamilton, Jack O'Neill, Robert August, Bob Hurley, Sean Collins, Kelly Slater, Lisa Andersen, Gerry Lopez, George Downing, Shane Dorian, Greg Noll, Corky Carroll, Shaun Tomson, Rob Machado, Sumo Sato, Timmy Turner, Shawn Stussy, Rabbit Kekai, Rick Fignetti and many more, who are already immortalized in cement.
---
---
---
  The Surfers' Hall of Fame celebrated its first induction in 1997 inside of specialty retailer Huntington Surf & Sport where several slabs remain. Four years later with the blessing of the City Council and a stunning bronze statue of sport's spiritual leader Duke Kahanamoku serving as a backdrop, the ceremony moved outside to the corner of PCH and Main; less than 100 feet from the famed Huntington Beach Pier, site of the U.S. Open of Surfing.Text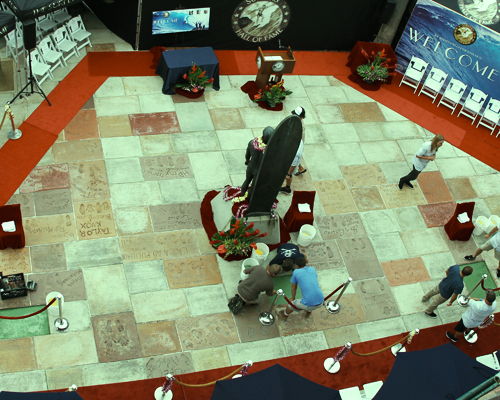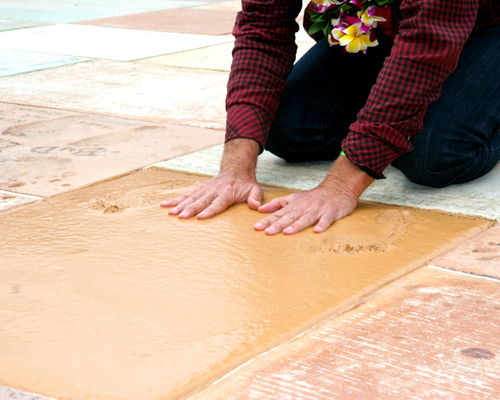 Annually, tens of thousands of visitors to Huntington Beach's downtown area literally walk in the footsteps of surfing superstars and legends from several eras including Laird Hamilton, Mike Doyle, Jack O'Neill, Robert August, Greg Noll, Jericho Poppler, Kelly Slater, Lisa Andersen, Martin Potter, Al Merrick, Shaun Tomson and Rob Machado who are already immortalized in cement.
  Styled after the famed Grauman's Chinese Theatre in Hollywood, which Aaron Pai visited as a youngster, the Surfers' Hall of Fame is intended to "connect the generations of surfers with a lasting tribute and permanent public showcase for the achievements of those who have shaped and revolutionized the sport," said Pai. The standing room only crowd on induction day is testament to the landmark's popularity and the surfing community's acknowledgment of their heroes.