Andy Verdone
"When considering Andy Verdone for induction we had many of our grassroots community come out and support him because of his 25 years of coaching and supporting surfing, plus the impact that he has had on so many of the kids who live in this town," said Surfers' Hall of Fame founder Aaron Pai. "He has been a major "positive force" in taking our sport of surfing to the next level while telling the kids to stay in school, get good grades, stay away from drugs, go to college… he truly has been a great example to us all!"
Pai added, "Andy has impacted kid's lives in many ways including his legendary surf trips around the world. I've seen him charge huge waves at Jeffreys Bay in South Africa, Byron Bay in Australia and the north side of the Huntington Pier! We are stoked to be able to recognize and to thank Andy for his contributions and achievements to our Surfing World!"
Coach Andy Verdone took over from the late Chuck Allen in '87-'88 and immediately lead Huntington Beach High School Surf (HBHS) Team to a NSSA National title. Verdone, who had been student teaching at Westminster High, remembers showing up to Allen's annual banquet in 1988, just as he was retiring and Verdone about to step in. He watched as Allen gave away college scholarships to kids – nothing he'd ever seen in any other sport.
"It was big, on a grand scale," Verdone said at the time, "Rarely do you meet a man who has had such great influence on the sport. I could call him any time, and he'd have time for me. I had a lot of sleepless nights in the early years trying to follow in his footsteps."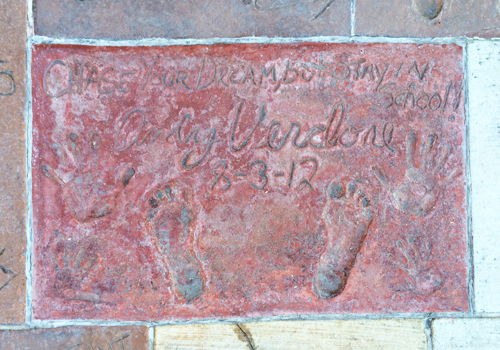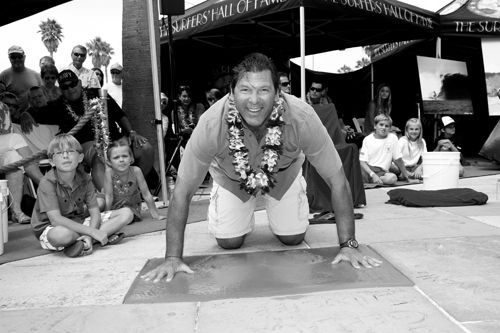 Now known as the "Phil Jackson" of surf coaches, Verdone parlayed Allen's success and has built his program into among the most successful and winningest in the country, capturing 10 NSSA National Titles as well as a National Surf League Title in 2010. A formidable ex-football coach turned 25-plus year surf coach for Huntington Beach High School, Coach Verdone is known for his disciplinary coaching style and turning out some of the best surfers in the world. He has trained and coached some of the best surfers in Huntington Beach including the Deffenbaugh brothers, Jay Larson, Micah Byrne, Shaun Ward and Brett Simpson.
A huge part of Coach Verdone's program is his legendary surf trips with the team to such destinations as Australia, South Africa and Ireland. He also raises funds to take students to state and national tournaments. A fixture on the southside of the Huntington Beach Pier, on any given school day, you should see Andy and his merry clan, ripping the pier!
Coach Verdone and his young globetrotters appeared in a 2007 surf documentary called "Chasing the Dream", which follows eight kids on his squad who want to become pros. Year after year 100 students try out for his squad and only 30 make the cut. Verdone's impact on the sport of surfing in Surf City is such that one young surfer moved here from Nantucket, Massachusetts without his family just to surf for the Huntington Beach Oilers.
Dane Reynolds
    "Dane Reynolds is the most exciting Freesurfer in the world today and many of our young surfers wanted him in the Surfers' Hall of Fame this year," said Aaron Pai. "We are honored and very excited to induct him into the Surfers' Hall of Fame!"
Reynolds, a 26-year-old from Ventura, California, is easily one of the most exciting and creative surfers on the planet; known for his "go for broke" style of surfing that includes a repertoire of experimental and aerial maneuvers. He was born in 1985 and started surfing at the age of 10 after he moved from Bakersfield to Ventura. It was here on the point breaks around Santa Barbara that Dane honed his progressive style. He first started competing at age 13 and by age 17 was considered to be California's greatest hope for a world title, the heir to Tom Curren's late '80s early '90s soul reign, and heartthrob to tons of teenage girls reading the surf magazines.
Reynolds competed in the 2003 and 2004 X Games and received the highest single wave score both years. His first video, "First Chapter", won Best Male Performance in a Video and Video of the Year at the 2006 Surfer Poll Awards. Dane qualified for the 2008 World Tour after finishing runner-up to Jordy Smith in the 2007 World Qualifying Series. He wound up 19th on the tour that year and then rocketed into the coveted Top 10 in 2009. Reynolds had a breakout year in 2010, ending up tied for fourth in the world. It only seemed like a matter of time before he would dethrone Kelly Slater.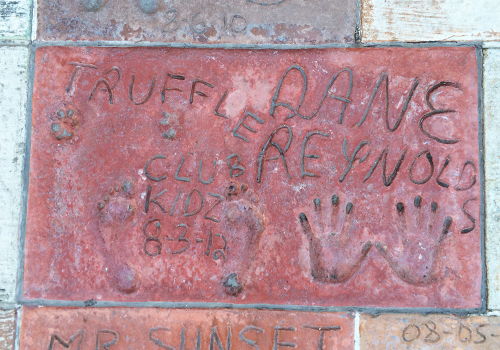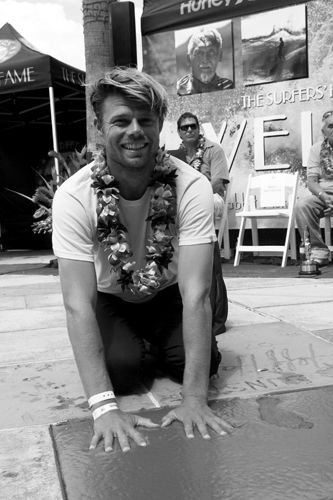 2011 came and went, but injuries kept him out of several events and seemed to throttle his competitive drive, but not his desire to push the boundaries of the sport. "I don't put too much importance on winning contests, which I think can make surfing boring," Reynolds said in an interview. "You've got guys doing safe turns all the way to the beach to get a seven-point ride. I don't see the point of that. I prefer surfing as an art as opposed to a sport. It's such a rad thing that it's crazy to confine it to a certain criteria."
In one of his few mainstream media interviews, Rolling Stone opined that one of the ways to understand just how differently Reynolds sees waves-and the act of riding them-is to consider the fact that, for a guy who makes his living on the water, he spends a lot of time in the air. His athletic, acrobatic free-surf style is punctuated by unearthly aerial maneuvers and cartoonish twists and turns, running counter to the straight-ahead, power mode that seems to dominate the professional circuit today. But in Reynolds's view, it really isn't whether you win or lose, but rather what you do when you're confronted with a break.
In announcing that he was leaving full-time competitive surfing, Dane posted on his website that, "Surfing is my passion in life. I always think about how lucky we are that there's even an ocean, and it's not too hot or too turbulent and it's not made of acid that burns our skin off. And how lucky is it that the land tapers into the ocean in just the right way so that when lumps of energy approach from a thousand miles away they gently rise up and crash at just the perfect speed so that we can wave our little arms and match their speed and hang at the crest weightless for just a second before sliding down the face. There are tons of them (waves). They keep coming, all different sizes shapes and speeds; endless joy."
Rabbit Kekai
    "One of the great icons in our sport of Surfing, Rabbit Kekai is a true inspiration…especially to young surfers," said Surfers' Hall of Fame founder Aaron Pai. "He has preserved his surfing culture in a very positive way, and that is by simply living it. We are honored and excited to induct Rabbit into the Surfers' Hall of Fame!"
Nicknamed "Rabbit" for being one of the island's fastest runners, Kekai is a living legend in the world of surfing; one that has done it all from Waikiki beach boy to groundbreaking surfer to North Shore Beach Marshall. Born in 1920 and raised in Waikiki, Rabbit began surfing at age five. At age 10 he was taken under the wing of Duke Kahanamoku who paid his entries into canoe races and had him teaching surf lessons.
A pioneer of North Shore surfing in the '30s with George Downing and Wally Froiseth, Rabbit became known as an innovator of drop-knee turns on short, finless boards. He practically invented hot-dogging, inspiring the likes of Phil Edwards, Joe Quigg, Miki Dora and Donald Takayama. He also had a direct part in the development of surfers such as Joey Cabell, Jeff Hakman and Randy Rarick among others. The quintessential Waikiki beachboy, Rabbit boasted many Hollywood elite of the day as clients including David Niven, Red Skelton, Dorothy Lamour and Kirk Douglas.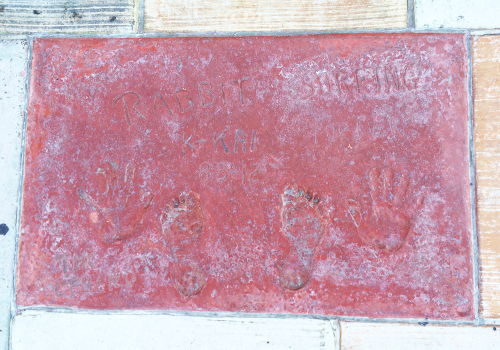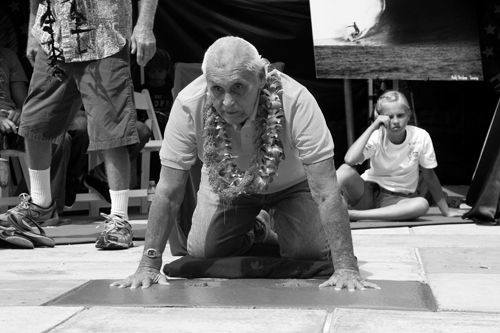 Rabbit made his own redwood and balsa boards prior to World War II, at which time he served as an army frogman in the South Pacific. As an Army-trained underwater demolitions man, Kekai spent more than three years planting explosives on island-based enemy defenses in Micronesia, helping clear pathways for American troops. He was one of four from his 12-man platoon to return from action.
Following his return from the war, Rabbit's surfing continued to improve and he won the Peruvian and Makaha International titles during the '50s. He returned to his job as a beachboy, but also worked construction and as a longshoreman. Beginning in the '70s, Kekai worked for the annual North Shore contests. Each winter season, he can be found at every Triple Crown event, doling out jerseys, wisecracks and advice as Beach Marshall, a position he has held since the first Pipeline Masters.
Year after year he was the most active surfer in his age group, winning the United States Surfing Championships in 1973, 1980, 1984 and 1988. In the legends division of the 2000 event, surfing against men nearly 15 years his junior, the 79 year-old finished fourth. Commenting on his many accomplishments, Rabbit responds, "When you pass 500 trophies, years and years ago, you lose count." Now in his ninth decade, his enthusiasm for talking stories, telling jokes and surfing are as strong as ever.