David Nuuhiwa
   There were no announcements sent out. The press was not notified. It was a rare mid-winter induction ceremony for the Surfers Hall of Fame. No television cameras or news crews on hand. None the less, and by word of mouth and only a few days notice, there was a packed house on hand at the corner of Main Street and Pacific Coast Highway in Huntington Beach to witness David Kawaikoolihili Nuuhiwa put his hands and feet into the famous cement and become the newest member of the elite Hall of Fame.
Known affectionately by the surfing community simply as 'Uncle David,' the graceful Hawaiian quietly embedded his limbs and signed the slab as Uncle David Nuuhiwa to the delight of the truly adoring crowd.
There are many things that David Nuuhiwa is known for. For one he is the father of former United States Surfing Champion and number one surfer in the world, David Nuuhiwa. Many know him as David Sr. It was under his guidance that young David developed quickness and agility as a pre teen surfer in Honolulu, Hawaii before coming to the mainland and becoming one of the greatest surfers of all time.
Uncle David is also a legend in the world of martial arts. Awarded title of Doctor and Professor Kaito by high officials and Black Belts of the Orient. Kaito literally means 'The best of the East and West.' David now makes his home in Anaheim and conducts a school in the ancient Oriental arts of self-defense.
From 1953 to 1965 David had 822 matches and untold honors, never having lost a bout in competition. He has won the rare red belt in Karate, of which he is one of only five in the world to hold this rank and the only American ever to hold this honor.
Among his famous feats of skill, David has battled an eight foot Watsui Warrior in Africa and has killed a charging bull with one snap of his wrist and powerful shoulders. This feat was demonstrated on such television shows as 'You Asked For It.' He also appeared on the Ed Sullivan show and the Steve Allen show and was a stuntman in the movie 'Mr. Roberts.'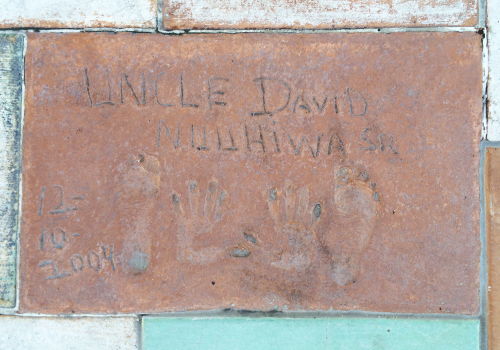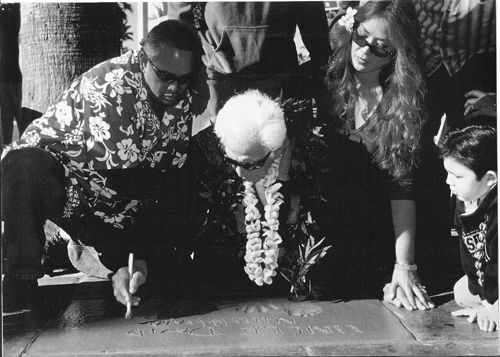 The majority of all of David's winnings have been donated to his favorite charity, needy children. He has made large contributions to the Shrine Hospital in Hawaii and the year that Hawaii became a state he was selected as 'King of Aloha Week' in Honolulu.
Through David's accomplishments and his work with needy, mentally retarded and birth defected children he has truly earned the rank of the only living 12th degree Black Belt in the World.
In Surfing, Uncle David has been a friend and adviser to almost every top surfer to have come in contact with him. As a Hawaiian Holy Man, he has given the blessing on most every major surfing event in the world, including the U.S. Open of Surfing and the O.P. Pro. He has also given blessing to many surf and Hawaiian related establishments including Duke's in Hawaii and in Huntington Beach, California. And, he has provided security at many of the worlds most important professional surfing events.
As a spiritual teacher, Uncle David has guided many a surfer in the right direction. As a friend he has advised just as many. As a healer he has taken care of many surfing injuries right on the beach. This includes resetting a dislocated ankle for me during a surfing event at Trestles. I later went to a doctor who told me that if he had not have been there I would have been in a cast for three to six months. As it was, I surfed the next day. These kinds of stories go on and on about the man.
On Friday, December 10, the morning of the ceremony, the sun shone brightly in the middle of a cloudless blue sky and the surf grew to the biggest day of the winter so far at the Huntington Beach Pier, right across the street. Everyone was saying that it was the surf Gods showing their respect for a human being that has been loved and also respected by everyone that has ever come into contact with him. It was truly an honor just to have been present at this event and something that I will never forget.
Jack Haley
    Hometown heroes earn more respect when they build their surf community where they live. Jack Haley was this surf hometown hero. From the first surfing crown in 1959 to his inductions in several halls of fame, Haley was a pioneer for the surfing community.
He is unlike any other champion surfer. He left a legacy in the surfing world, but Haley took to entrepreneurial projects that were just as successful as his surfing.
With the first surfing championship win under his belt and years of recognition, Haley opened Jack Haley Surfboards in his hometown of Seal Beach. By 1965, he opened Captain Jack's, a seafood and steak restaurant in Sunset Beach. By the seventies, Haley was selling real estate.
As years past and his new ventures pulled him in different ways, Haley stayed true to the surfing lifestyle. Haley continued to pursue other aspects in the ocean. He became a lifeguard where he was instrumental in rebuilding the Seal Beach Lifeguard Station. But he always stayed true to the longboard lifestyle even after the newfandangle shortboards littered the all the surf hot spots.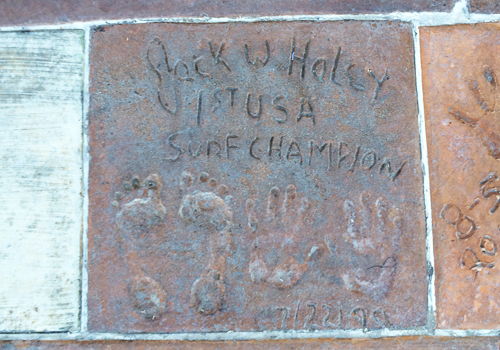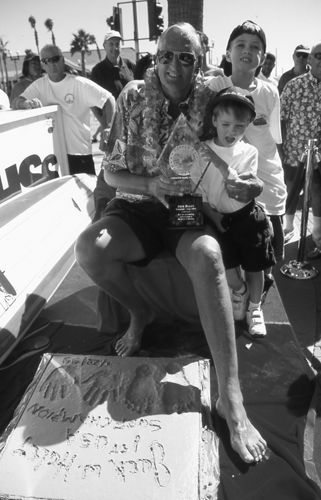 Part of his style was his street wear. Out and about away from the surf, Haley created the image every old surf buff strives for: Hawaiian shirt, sandals and casual pants or shorts, depending on the season.
His commitment to the surfing world lives on long after his death in March 2000. Haley's contributions led to his induction into the Seal Beach Hall of Fame, the Surfing Walk of Fame and the first Surfers' Hall of Fame, which was located inside Huntington Surf and Sport. With the reconstruction and the newly dedicated home of the Surfers' Hall of Fame, Haley, will be inducted in 2004 by using his first imprints.
Jericho Poppler
    Just ten years after riding her first wave, Jericho Poppler became the 1970 United States Championship in Huntington Beach, Calif. But it was more than luck for this athletic beauty.
Born December 13, 1951 and raised in Long Beach, Calif., Poppler's first passion was ballet and jazz. She danced for years prior to jumping on a surfboard developing her strength, stature and balance.
Poppler's name and style became the standard in women's surfing. She was a one of a few women who blurred the line between genders. Poppler dominated the surfing scene with a decade of championship titles from all over the world. Her talent did not go unnoticed. She soon got her own "Jericho Poppler" model surfboard with Robert August, a world famous surfboard shaper.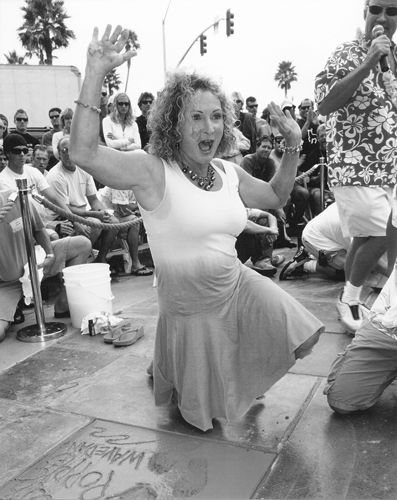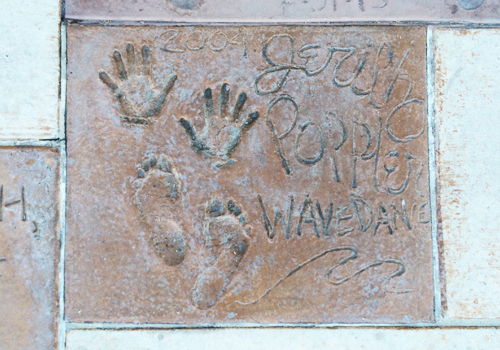 But Poppler's passion was more than surfing. She co-founder the Women's International Surfing Association, then co-directed the first Women's International Professional Surfing Championships and developed the Women's Professional Surfing Coalition.
As a founding member of Surfrider Foundation, Poppler took an active role in protecting the ocean as did a string of successful programs still in effect today.
The active environmentalist, wife and mother remains on top by being active in the surf community. Today she spends time managing surf events, environmental causes and mothering her children. She still takes time out of her day to surf or paddle. Poppler's drive and enthusiasm for surfing and its lifestyle motivates female surfers throughout the world.
Mark Occhilupo
    Mark Occhilupo was a young fiery Australian who stormed the World Championship Tour (WCT) with power unseen from any surfer, especially at the age of 17. Occhilupo's, also known as Occy, strength under pressure ushered him into surfing's most memorable heats.
Born June 16, 1966, in Kurnell, Queensland, Occhilupo hit the water nine years later. By 13, Occhilupo moved on to contests where just four years later, he made the move to the international circuit, riding in a top 16 slot. By years end, Occhilupo built a name for himself.
At the Op Pro, North America's prime WCT event, Occhilupo surfed against Tom Curren, America's surfing poster boy. The heats made America take notice of Occhilupo. His surfing career in 1987 enabled him to jump into Hollywood with a role in "North Shore".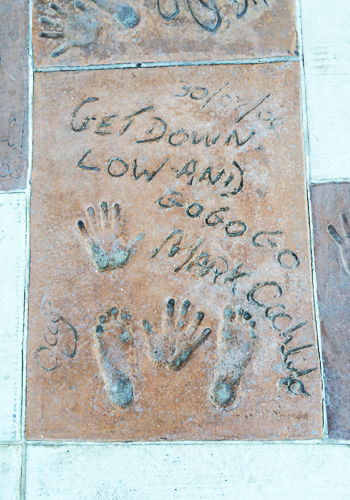 But the most popular surfer faced a fierce battle against himself. Years on the tour burned him out. He lost focus. He lost his desire to surf. The young aggressive surfer faded away from the '80s spotlight and into a subdued existence.
As the years passed, the time away gave Occhilupo a clearer vision of his goal, dominate the world circuit by an incredible comeback. In 1995, he re-entered the surfing arena proving he could still capture a title. With some major wins under his comeback belt, Occhilupo stunned the surfing world with a world title in 1999 at the age of 33.
Peter Townend
    Peter Townend was the first World Professional Surfing Champion, crowned in 1976, just seven years after he started to surf competitively. At 18, Townend ditched a scholarship, moved into a suitcase and tackled the world with his own brand of domination.
Townend's surfing record included dominating surfing's formative years with top five finishes in 1976 through 1979. But domination of the contest scene was just one of the empires Townend was after.
While Townend traveled and competed, he wrote for Sydney's Daily Mirror, covering the surf beat. He became a regular in Surfing Magazine. Knowing that surfing couldn't give him a security, he looked outside his industry. He landed a role in "Big Wednesday", surfing with heavies like Gerry Lopez and Ian Cairns.
Townend landed in Southern California where he became the Executive Director for the National Scholastic Surfing Association (NSSA), organizing and promoting surf events as well as coaching the United States Surf Team. He coached the 1982 and 1984 teams at the International Surfing Association World Amateur Championships, winning the title with surfing great Tom Curren.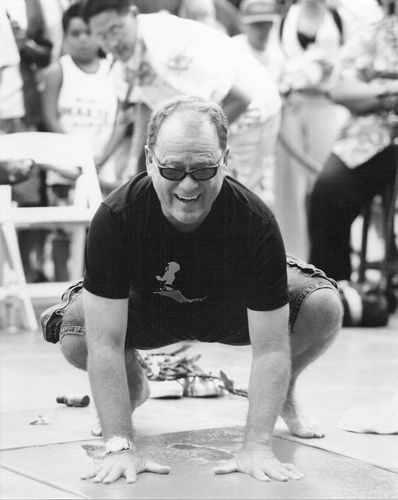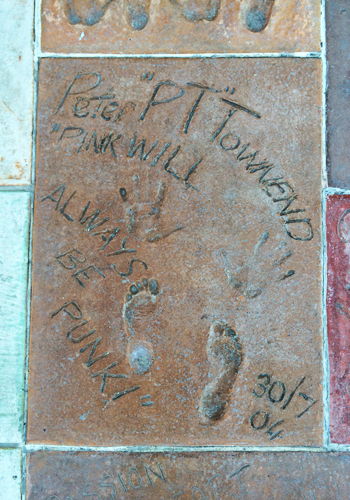 In the mid-1980s Townend moved back into journalism. He became the advertising director and associate publisher for Western Empire Publications Surfing Group. To get a better view of the surfing industry, he became the marketing and global branding director in the late 1990s for Rusty/Rusty Girl apparel, accessories and surfboards.
But Townend never gave up on professional surfing. He became surfing's voice for Prime Ticket and ESPN, broadcasting from the Bud Pro Surfing Tour and the Association of Surfing Professionals World Championship Tour.
In 2000, he returned to Primedia where he moved from publisher to marketing and events director for the Action Sports Group. But to completely conquer the media world, Townend created The ActivEmpire, a brand consultancy company specializing in brand management, athlete representation and special event marketing in the surf and skate markets.
Townend's drive and passion for promoting his sport gives him a crown unlike any other. His fortitude has made him a permanent fixture in the surfing community; serving as president of Surfing America and coaching his local middle school's surf team.
Gerry Lopez
    Not many people can say they've single-handedly changed the course of a sport. Fewer still have done so with all the casualness of a cat licking its haunches. Gerry Lopez not only made Pipeline the world's most important wave, he made the tube the ultimate prize in surfing.
Lopez was born in Honolulu, the son of a newsman for the city's Bulletin and Advertiser. When Lopez got serious about surfing in high school, his hero was Paul Strauch — his style and grace would be Lopez's reference point. At Ala Moana in the mid-'60s, Lopez witnessed his first tuberides, and the wave became his training ground. Along with Reno Abellira, he was a protege of the much-in-demand Dick Brewer. He pursued a degree in architecture from the University of Hawaii from 1967-'69, then dropped out and became the epitome of the new age surfer.
The shortboard revolution/hippie generation needed an archetype, and it was Lopez. He discovered yoga, meditation and psychedelia around the time he began shaping under the tutelage of Surfline Honolulu's Chris Green. Jock Sutherland, who had been the king at Pipeline, left to serve in the military, and Lopez eased onto the throne. The barrel at Pipe had been surveyed, but not fully explored. During the epic winter of 1969-'70, Lopez set the standard for riding the tube at the world's most dangerous break. Suddenly, nothing else mattered in surfing. The barrel was now hallowed ground, and the barrel at Pipe was Shangri La.
In 1971, Lopez established Lightning Bolt surfboards with Jack Shipley. The trademark, fueled by the Lopez aura, came to represent Hawaiian surfing. Virtually every top pro rode the boards on the North Shore during the '70s. When the company devolved into a power struggle, Lopez sold his portion and made a clean exit to a 20-acre ranch he bought on Maui.
While the Lopez mystique was decidedly anti-contest, he did take part in the Pipe Masters. After missing the first Pipe event because of misinformation, he won the next two and made the finals four other times. From 1993-'97, the event was known as the Chiemsee Gerry Lopez Pipeline Masters. Lopez also competed in a portion of the inaugural season of the IPS tour in 1976. Despite his focus on other pursuits and a lack of results, his mere presence afforded the tour much-needed credibility.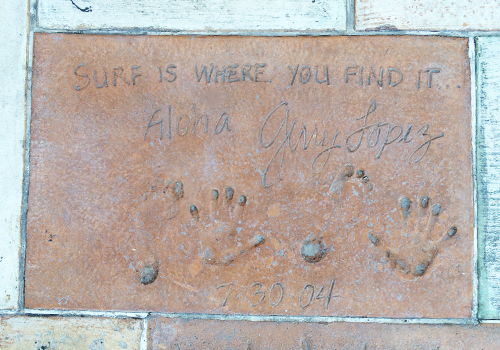 By the mid-'70s, the North Shore's crowds drove Lopez to seek asylum. After relocating to Maui in 1973 — where he currently resides with wife Toni — he began exploring Indonesia in search of empty perfection. He was one of the first at Uluwatu and G-Land, where he spent months gearing up for winter at Pipe.
After starring in a handful of surf films through the early '70s, Hollywood director John Milius gave Lopez a shot at acting in 1978, with a cameo in Big Wednesday. He then co-starred as Arnold Schwarzenegger's sidekick, Subotai, in Conan the Barbarian. Next he portrayed a Hui heavy in North Shore and an indigenous Bornean in Milius' 1990 release, Return of the King.
But acting and surfing didn't take up all of Lopez's time. On Maui, the mecca of windsurfing, he picked up the sport as an alternative on flat, windy days. He began shaping sailboards in 1979 and opened a shop with sailmaker David Ezzy. His penchant for design also brought him to paddleboarding, both as a shaper and paddler. Motocross, a passion since high school, was another flat-day adventure. By the '90s, snowboarding was his newest conquest, taking him to the world's best peaks. He also joined Maui's Strapped crew for some of the biggest tow-in sessions at Jaws.
Lopez's many endeavors have been mastered with peerless grace and infinite respect, undertaking each new challenge with the same approach as his classically effortless Pipe crouch. This has earned an unprecedented level of respect within the surfing world. No matter how heavy the situation, Lopez continues to make the near impossible look deceivingly easy. — Jason Borte, October 2000