Ryan Turner
Ryan Turner is a great surfer, mentor, big wave charger and pillar of the Huntington Beachsurfing community, running the Famous Sugar Shack Restaurant that his family has owned since the 60's! With younger brother and acclaimed surffilmmaker Timmy, life from an early age was about the beach and surfing. Ryan enjoyed a lot of juniorsurf contest success, but as he got older it was travel and surfing solid barrels which focused his surfingtalent. It is this reputation for tube riding which leads to yearly invitations to the Padang Padang Cup in Bali, among the most coveted barrel riding events in the world.
Considered the "best unknown surfer in the world" by Coach Andy Verdone, Ryan is one of the top 10 backside barrel riders in the world and has proven this point again and again with his many Indonesiasurfing trips. In Mainland Mexico, Ryan also finished 3rd at Puerto during another Barrel riding event scoring a perfect 10 along the way. Sponsored by Rusty as a teenager, Ryan captained the Huntington Beach High School surf team to the NSSA Team Title.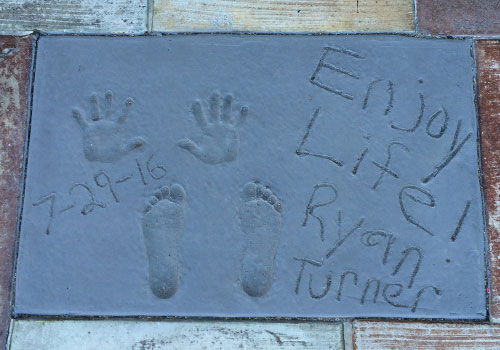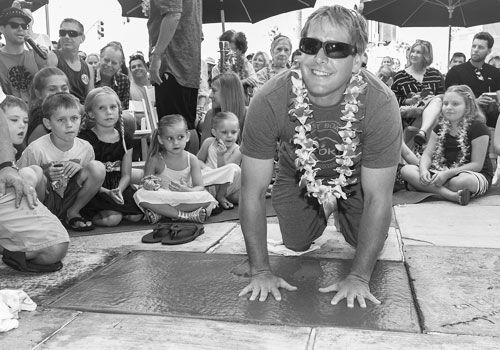 Ryan, who was overcome with emotion and having difficulty speaking, was cheered on by the enthusiastic crowd. "What an great honor to get inducted into the Surfers' Hall of Fame. I would like to thank Aaron Pai and the Pai family, my mom and dad, and my family including my beautiful wife Jen." Ryan inscribed "Enjoy Life" into his stone.
Blaine "Sumo" Sato
 Blaine "Sumo" Sato is a waterman, family man and he's had success as a professional chef. While often found charging waves on the north side of the Huntington Beach Pier on a colossal 12-foot longboard stout enough to carry his burly Hawaiian frame, Sumo's real passion is serving the Lord.
Pastor Sumo's church, "H20," serves the homeless,surfers in recovery, residents in crisis, be it spiritual, physical or otherwise. He has officiated marriages, baptisms and memorial services; offering comfort when we grieve, and shares our tears of joy when we are elated! Sumo was raised on both Oahu and the Big Island, part of an extended family of nearly two dozen relatives.
In 2011, Pastor Sumo helped form the H20 Community Church in Huntington Beach and also serves as the chaplain for the city's Marine Safety Division. In February, life threw Pastor Sumo a curveball when he was diagnosed with Stage 4 colon cancer and the surf community rallied to raise funds for his healthcare. Recently, Sumo underwent an 11 hour surgery to remove two malignant tumors. Pastor Sumo has a long road to recovery, but with his loving wife, Diane and his family's unwavering support, he is optimistic and his faith in God even stronger.
"When you choose God to be on your side, even in the dark times, you can be at peace," said Sumo's wife Diane. A friend of the Sato family remarked, " Thank you for honoring Sumo and bringing to him what he's brought to all of us."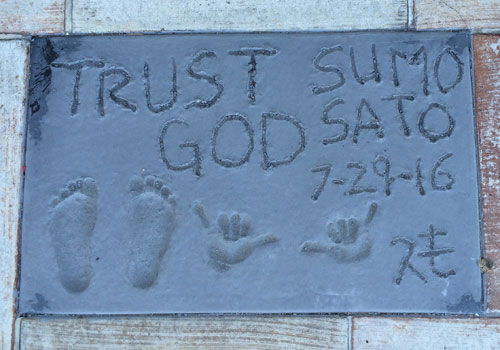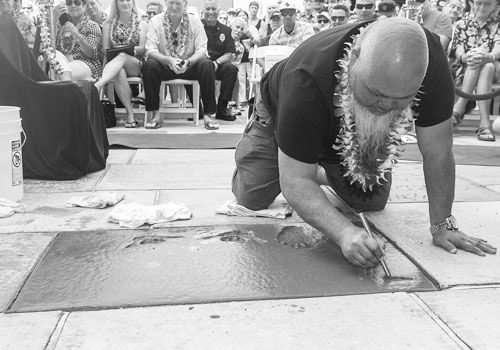 "This is truly a gift; I don't deserve this," said Sumo. "I'm a transplant so thanks to the boys on the North Side. I love this community. The support just blew my mind. When you trust God all things fall into place." Sumo inscribed "Trust God" into concrete.
The Surfers' Hall of Fame induction ceremony pays tribute to those individuals who have made an indelible mark on the sport, industry and culture of surfing. Annually, tens of thousands of visitors travel to Huntington Beach's downtown area and literally walk in the footsteps of surfing superstars and legends from several eras including Laird Hamilton, Andy Irons, Jack O'Neill, Robert August, Bob Hurley, Sean Collins, Kelly Slater, Lisa Andersen, CJ Hobgood, Al Merrick, Shaun Tomson, Rob Machado, Timmy Turner and Rabbit Kekai, who are already immortalized in cement.

The nation's first imprint collection of legendary surfers, the Surfers' Hall of Fame celebrated its first induction in 1997 inside of specialty retailer Huntington Surf & Sport where several slabs remain. Four years later with the blessing of the City Council and a stunning bronze statue of Duke Kahanamoku serving as a backdrop, the ceremony moved outside to the corner of PCH and Main, less than 100 feet from the famed Huntington Beach Pier, site of the Vans U.S. Open of Surfing.
Shawn Stussy
Stussy, Inc. bears the name of designer Shawn Stussy, who started surfing at the Huntington Beach Pier in 1968 just as the sport was gaining wide recognition in popular music and movies. By the age of 13, Stussy began to design and shape his own surfboards in the family garage; creating his first board out of an older sister's log, which he stripped and reshaped. He was so talented that as a 15-year-old high school student he was hired by Chuck Dent in Huntington Beach.
From 1973 to 1980 Shawn shaped for Russell Surfboards on 17th street in Huntington Beach, also called The Brotherhood. In 1980 Stussy launched his own business, shaping surfboards in his Laguna Canyon studio during the day and at night boxed T-shirts for sale in area surf shops.
Stussy Inc. was established in 1984 and on March 27, 1986 the company registered the Stussy trademark in the United States. Stussy went on to become one of the biggest street wear labels of the 1980s and 90s, reportedly reaching a value of $19 million in 1992. Shawn sold his interest in 1996 and has been surfing and raising his family.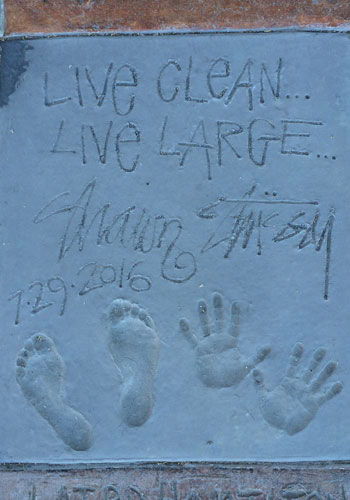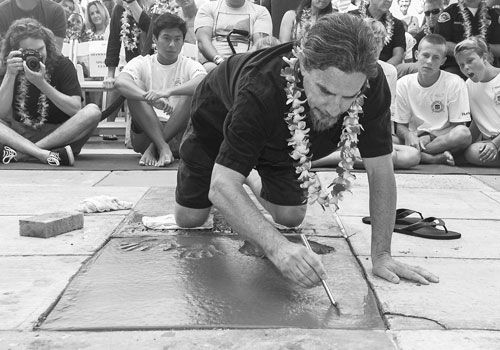 Shawn Stussy was hearalded by his several industry peers as a super craftsman, perfectionist and ahead of his time. John Gothard, current VP of RAEN, said his first impression of a Stussy surfboard was in Scorpion Bay (Baja, Mexico). "Shawn's boards were so magic and read my mind. I'm proud to say that I rode for you!"
Stussy thanked everyone in attendance, especially the Pai family and regaled the crowd with his history in Huntington Beach while noting that the Surfers' Hall of Fame location used to be a parking lot for the old Golden Bear. "I turned 62 last week so this is a big deal at this stage of my life. I kissed my first girl at the foot of that pier. Life is yin and yang. I lost my brother on the south side." Shawn inscribed "Live clean. Live large" into his stone.