Skip Frye
    "Skip Frye is one of the all-time great surfers and one of the all-time great surfboard shapers!  Skip is true surfing royalty," said Aaron Pai, founder of the Surfers' Hall of Fame.  "We are truly stoked to honor Skip for all he has done for our sport."
Skip Frye was born in 1941 and began surfing at age 16 after moving with his family to the north San Diego suburb of Pacific Beach.  His birth name was Harry, but since his father was away in the military, he was assigned the task of being the "skipper" around the house and the name stuck.  His first wave riding experience came at Pacific Beach in 1958, and was the beginning of a lifelong passion that continues to this day.
By the mid-60s the shy but focused Frye had become one of California's best competitors.  Known for his gliding, fluid style which allowed him to capture several local and national titles, Skip competed in the first Duke Kahanamoku Surfing Championships at Sunset Beach and also represented the U.S. at the World Contests in 1966 and 1968, narrowly missing the final of each occasion.   The venue for 1968 was Puerto Rico, which instantly became his favorite surf destination, thanks to its warm, idyllic surf and Latino flavor.  A photo of him from the trip appeared on the cover of the Sports Illustrated swimsuit issue.
Skip's talents for shaping surfboards began to emerge in 1963 and within two years he was working for San Diego's Gordon & Smith's Surfboards; in 1966 G&S introduced the Skip Frye signature model.  Frye was riding a 9'6" board in late 1967 when he traveled to Australia with the legendary Windansea Surf Club for an American versus Australia team contest (the U.S. team got waxed by Aussies riding lighter boards).  After that trip, Skip became more interested in shorter more maneuverable boards and began experimenting with designs such as the V-bottom and Baby Gun.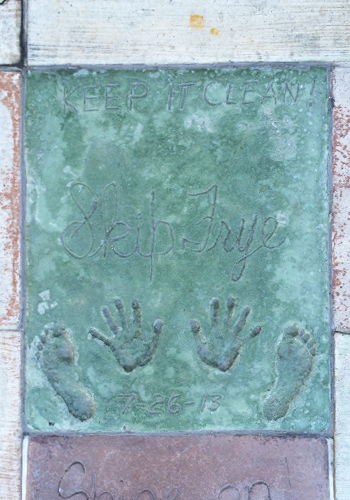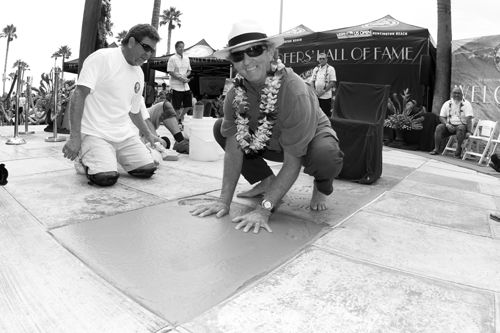 He kept refining the designs and created a board he called the Egg, one of his best-known shapes.  As longboards nearly vanished overnight, Frye went with the flow, working on egg shapes and later experimenting with the Fish (his keel-fin, heavy-glassed split-tails remain in high-demand throughout So Cal).  Skip stayed with G&S until the mid-seventies and then struck out on his own to shape boards at the Green Room and at his own place called The Shack, behind Select Surf Shop in Pacific Beach.
In 1981 Skip returned to Gordon & Smith and also started competing again.  He left G&S in 1986 to join the crew at Diamond Glassing, and began shaping under his own business name, Skip Frye Surfboards.  It was here that he developed his iconic Diamond Frye Logo, a combination of wings and a diamond. In 1988 Skip and his wife Donna officially opened Skip Frye Surfboards, which was a small shaping room and front office that adjoined Windansea Surf Shop in Pacific Beach.  Skip began shaping and working on new fin configurations for longer boards, as he was a fan of the smooth glide the increased planning surface allowed. Through this work, he developed a variety of shapes, including the Eagle and Fish Simmons.
In November 1990, Skip and Donna left Windansea, moved across the street and opened Harry's Surf Shop with longtime friend and fellow surfer/shaper Harry "Hank" Warner.  Harry's was the namesake of not only Skip and Hank, but both their fathers and also Hank and Donna's grandfathers.  Harry's was not your typical surf shop; it was a combination retail store, surf museum, art gallery, shaping shop and political gathering place.  Photos of customers with their new boards lined the walls and art pieces and sculptures from local artists were prominently featured.
Skip's career has had many twists and turns, however, he was never more energized than during the longboard revival.  "The biggest buzz I ever had in surfing was the early '90s when I went back to the big ones," he recalls. "I mean the 11-footers.  The same thing happened to Duke Kahanamoku when Tom Blake reintroduced him to the 16-foot olos back in the '30s."
Skip's boards have slowly become collector's pieces often passed down through generations.  Meanwhile, Skip continues his own tireless work for surfing's constituency by collecting and building boards, his keel-fin fish being particularly popular.  "I feel it's my duty to pass along the heritage of our sport," he says with a passion.  But there's still a long way to go, a lot of work to be done."
Shane Dorian
    A fearless surfer from Hawaii's Big Island, Shane's lengthy resume of accomplishments includes costarring in the 1998 big-wave melodrama In God's Hands, winning the 1999 Rip Curl Bells and 2000 Billabong Pro Mundaka World Tour events, and a top 5 ASP ranking in 2000.  The wiry (5'8", 150 pounds) Dorian was a leading "New School" aerialist in the early '90s, since the middle '90s has been one of the world's best big-wave riders taking top prize in the 2008 and 2013 XXL Global Big Wave awards, and is a tube rider of phenomenal agility and precision.
Shane Dorian was born on July 19, 1972 in Kailua Kona, Hawaii to his father Patrick, a former Hollywood actor and stunt double for Elvis Presley, and his mother Susan, an independent, strong-willed woman who went on to compete in female bodybuilding events.  When Shane was three, his parents opened a restaurant called Dorian's right on the beach.  Since Dorian was too young to wait tables, the long hours hanging around the restaurant soon forced him to turn to the ocean for amusement.  Along with best friend Mike Stewart, he virtually lived at the once-empty grommet breeding pool known as Banyans…on bodyboards.
Shane began surfing at age five in 1977; it took him six years to win his first contest, then another three to win the Hawaiian State titles.  Surfing education became a top priority as Dorian's mother worked out a system where Shane would spend the second and third school quarters on the North Shore of Oahu (the peak winter season) and the first and fourth quarters back home on the Big Island.  "The schools didn't really understand it," said Shane.  "But I don't blame 'em. The concept of pro surfing was so foreign to them back then."
Dorian's official coming-out party was during the Gotcha Pro at Sandy Beach in 1987.  He beat out big names, made it through four rounds and got some media exposure.  More importantly, he became friends with a couple of the heavies and the up-and-coming surfers on Oahu, Brock Littleand Todd Chesser.  With Little and Chesser leading the way and Dorian following, an informal North Shore boot camp was instated.
Shane proved in the following years he could not only keep up with the big boys but also surpass them.  But in '92, with a few years of heavywater experience under his belt, he followed Chesser and Little out to an outer reef during an exceptionally giant day.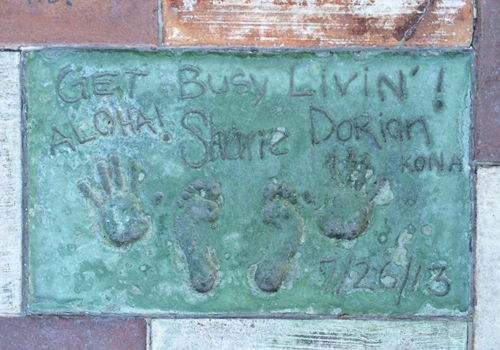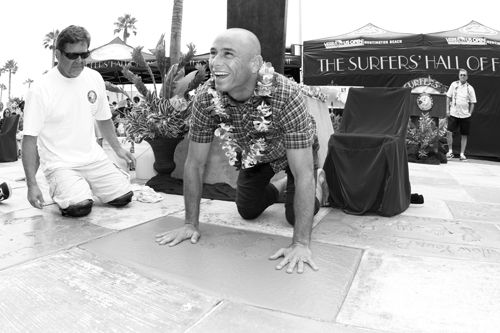 "It took us, like, 45 minutes to get out there. And then when we did, we were facing these 25-foot waves with crazy cleanup sets.  I sat outside those guys for a while, but then I started getting pissed when they caught a bunch of waves," Dorian recalls.
"About that time, the horizon went dark from this huge set and we started scratching.  I was too deep, but I wanted a wave so bad that I just flipped around and went on the first one."  Shane launched over the falls, lost consciousness and then regained consciousness to find he could not feel his legs and was foaming at the mouth.  "I barely made it through that one, but it was a major turning point for me. As Brock said, it was the first time I realized that I was mortal."
When he wasn't tempting fate, Dorian engaged in much safer activities like charging Backdoor.  Surfing alongside a rapidly growing crew that included Kelly Slater, Rob Machado, Chris Malloy, Taylor Knox, Benji Weatherley and Conan Hayes, Dorian helped launch a new breed of surfing that included a whole bag of anti-gravity tricks combined with traditional carving and heavy-wave charging.  Dubbed the "New School" and well documented in Taylor Steele's videos, the New School remained the established surfing order through the 90s.
Dorian joined the ASP World Tour in 1993 where he hovered outside of the top 10 for a number of years before cracking the barrier with a fourth-place finish in 2000.  Popular among surfers and fans, Shane finished runner-up to Kelly Slater in the 2000 Surfer Magazine Readers Poll Awards and finished 2nd in the prestigious 2001 Quiksilver in Memory of Eddie Aikau big wave contest.  Shane received the coveted "Waterman of the Year" award from SIMA in 2012, one of the sport's highest honors.  Earlier this year, Shane Dorian went home with two awards for an unbelievable barrel ride at Jaws earlier this season, winning $55,000 for the Pacifico Tube and Billabong XXL Ride of The Year.
"Shane Dorian is one of the most famous and gifted Big Wave Surfers on the Planet and a true Surfing Legend," said Surfers' Hall of Fame founder Aaron Pai!  "Shane continues to inspire generations of Surfers.  We are stoked to be able to thank Shane Dorian for his achievements and contributions to our Surfing World and are happy and excited that he will be here for his induction into the Surfers' Hall of Fame!"
Rick "Rockin Fig" Fignetti
"Rick 'Rockin Fig' Fignetti is a home grown Huntington Beach surfing legend; one of Huntington's finest," said Surfers' Hall of Fame founder Aaron Pai.  "He's been an amazing ambassador for our sport both in and out of the water."
For more than 20 years, the name "Rockin Fig" has been synonymous with surfing and Huntington Beach.  From his lengthy stint on KROQ FM as the resident "surfologist" to announcing major competitions like the U.S. Open of Surfing, Bud Surf Tour and NSSA Nationals, his unique and quirky voice is instantly recognizable to competitors and fans alike.  Old time surfers might even remember hearing his surf reports on 976-SURF back in the day when people actually used a landline to call for surf updates.  More recently he can be seen and heard on TV and radio commercials as a spokesperson for Toyota of HB .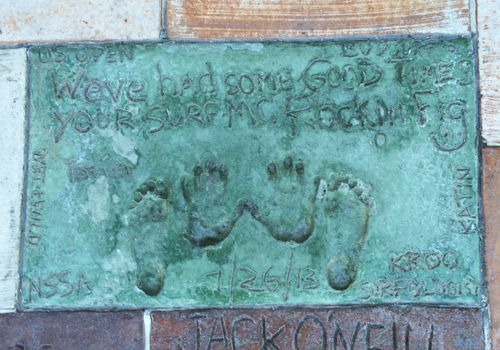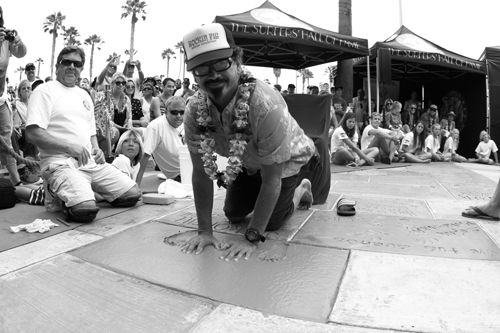 Despite his notoriety and commercial success, Fig is a surfer first and foremost, and spent more than three decades in pursuit of an individual championship title.  Fig competed in the first NSSA National Championships in 1978, making it to the finals and was on the Orange Coast College team that won a title in 1979 and 1980.  Although a 10-time West Coast Surfing Champion, an individual NSSA (National Scholastic Surfing Assoication) title remained elusive for 35 years until he won his first (and second) titles as a 55 year-old last year.
"I've made a lot of final appearances, but have never been able to pull off the win," Fig stated after his crowning achievement.  "I've waited forever. I thought I'd never possibly get a national title before I died.  There's always been an empty spot in my heart, thinking every time I've kind of messed up.  So I'm kind of at peace with myself."
Considered an institution locally, Fig is the proprietor at Rockin Fig Surf Headquarters on Main Street; an old-school shop with tons of surfboards that he is happy to discuss with an encyclopedic knowledge.  Rick is also a journalist of some note, having penned a column in the Huntington Beach Independent and Los Angeles Times for many years.  Hardcore surfers can find him most every day on the north side of the pier, riding waves and loving life.