Randy Lewis
    Lewis began surfing in 1961 and was considered a childhood phenomenon along the lines of one of his prodigies, Bud Llamas.  He started competing in the boys 14 and under division of local events and went on to place third in the 1967 U.S. Championships Junior Men's.  Consistency was Randy's hallmark when competing, performing well and usually placing among the top three.  He won the West Coast Championships in 1976 and 1977 and the San Onofre Surf Club titles in 1978 and 1979.
From WSA events to the annual Huntington Beach contest, Randy competed all the way up through the Super Grand Masters (really old guys) and was often the point leader in his divisions.  He finally retired from competitive surfing in 2006 when he won his last event, the City of Huntington Beach Championships.
"Randy was a pure surfer with a great nose riding style," said John "Frog" Van Oeffelen, also a charter member of the Hole in the Wall Gang.  "His balance was amazing; a goofy-footer nose-riding the south side (of the Huntington Beach Pier).  He was (is) a truly nice person and mentored many a young surfers along the way, including Huntington Beach's own Bud Llamas."
In the mid-60's, legendary shaper Gordie Duane took Randy under his wing and taught him his board shaping secrets.  Soon thereafter, Randy was shaping and riding for the famous "Hole in the Wall Gang", an assemblage of seasoned Huntington Beach surfers who weren't part of the regular contest circuit, but were great competitors in their own right.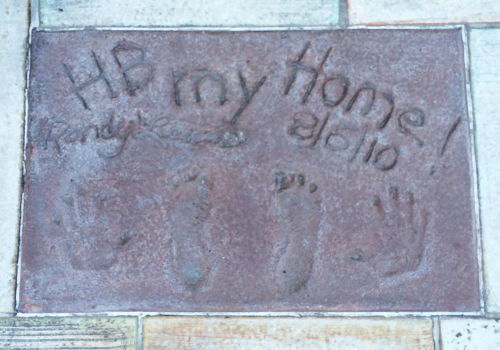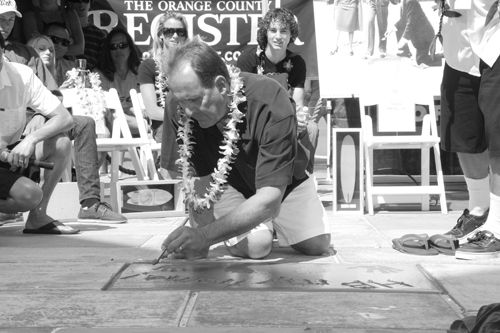 From 1977 to 1987, Randy operated his own surf shop, the Randy Lewis Surf Center, on 5th Street.  Over the years he has worked for almost every HB surf store and currently shapes at Chuck Dent.  Among the big name surfers who rode Lewis boards—Llamas, Michael Ho, John Bruiser and Joey Hawkins.
"Randy Lewis is one of the greatest shapers to come out of Huntington Beach," said Surfers' Hall of Fame founder Aaron Pai.  "When I was a kid growing up, we all looked up to Randy as a surfer and a shaper (still do!).  He surfed the Huntington Pier with style and grace and was one of the hottest surfers out in the water.
"Anyone who grew up surfing in Huntington Beach in the 60's, 70's and 80's knows the name 'Randy Lewis'!  This guy is right up there with all 'the best' surfers and shapers in town.  We are honored and excited to be able to induct Randy Lewis in the Surfers' Hall of Fame this August!"
Notable: Randy is somewhat famous in the world of skateboarding for his one cover shot on SkateBoarder magazine in 1964 (Vol. 1 #2).  For a time, Randy tried his hand a motorcycle speedway racing in the early 1970's in Costa Mesa, Irwindale and Bakersfield at the urging of friends.  After racing alongside the likes of future world speedway champion Bruce Penhall, Randy quickly returned to the water where he was more comfortable.  His parents, Mary Jane and Forest (a retired city police officer) still live in Huntington Beach.
Stephanie Gilmore
    Three-time world champion Stephanie Gilmore is set to be inducted into the Surfers' Hall of Fame. Gilmore, the youngest-ever inductee at age 22, has already captured U.S. Open of Surfing and Vans Triple Crown titles in addition to three consecutive ASP women's world titles. Earlier this year, she was awarded the prestigious Laureus World Sports award, elevating Gilmore to among the world's elite athletes.
"At only 22 years-old, Stephanie is truly one of the greatest ambassadors our sport of surfing has ever seen," said Kelly Gibson, Rip Curl USA President and CEO. "From winning three consecutive ASP World Titles to being the ultimate brand icon for Rip Curl, she continues to push the sport, influence surf fans globally, while remaining true to herself. Rip Curl couldn't ask for a better face for our brand."
With her father's encouragement, Gilmore's life as a surfer began on Australia's Gold Coast at age 10. A natural at the sport, Stephanie spent much of the next few years surfing some of Australia's best waves. By age 17 she was entering world tour events as a wildcard, which paid off with a victory at the 2005 Roxy Pro Gold Coast. Soon thereafter Gilmore's success on the WQS (World Qualifying Series) Tour qualified her for the 2007 ASP Women's World Tour and she did not disappoint, winning four events and claiming her maiden World Title.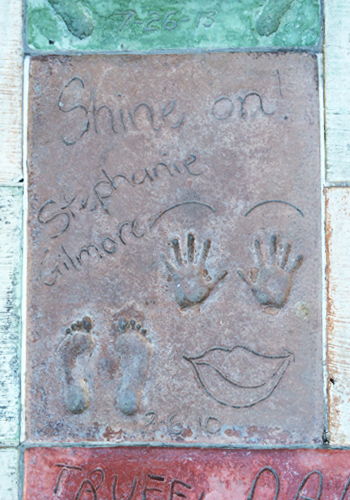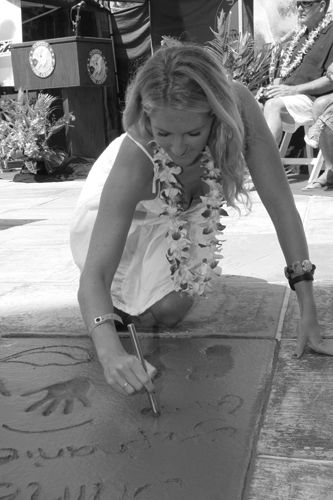 Proving that first year was no fluke, the girl known as 'Happy' for her infectious smile, was back again in 2008, looking hungrier and stronger than ever, dominating the older and more seasoned tour veterans. She went on to secure five ASP Women's World Tour victories en route to her second consecutive ASP Title, then capped the season off with her first Triple Crown of Surfing trophy. Consistency was the key in 2009, when Gilmore won the first and last World Tour events to claim a third consecutive ASP Women's World Title.
Already 3-0 in World Tour campaigns, Stephanie won the opening two events of 2010 and currently leads the title race…again! Taking the reigns from seven time world champ and Surfers' Hall of Fame inductee Layne Beachley, Gilmore is poised to rewrite the record books and may create yet another Aussie surfing dynasty. One thing is for certain, on Friday, August 6, Gilmore's foot and handprints will be forever encased in concrete alongside the sport's pioneers and heroes.
"Steph Gilmore is an amazing athlete, 2009 Surfer Poll winner and today is considered the most popular female surfer on earth," said Surfers' Hall of Fame founder Aaron Pai! "We are very honored that she will be inducted into the Surfers' Hall of Fame this coming August!
Ian "Kanga" Cairns
    Against the backdrop of the mega surf contest that he helped shape, Ian "Kanga" Cairns will enter the 2010 Surfers' Hall of Fame this August.  Winner of the 1973 Smirnoff Pro and 1975 Duke Kahanamoku Classic, Cairns was the premier "power" surfer of his era and dominated the North Shore during the mid to late-seventies.
Known as a fierce competitor who carved trench-like turns in big surf, Cairns ultimately turned his attention to growing the sport and played an instrumental role in the development of the NSSA, ASP, Op Pro, Bud Surf Tour and the U.S. Open of Surfing; earning a reputation as an articulate and passionate supporter of competitive surfing.  Cairns, along with other inductees to be announced, will place their hands, feet and signature in wet cement for the ages during a public ceremony.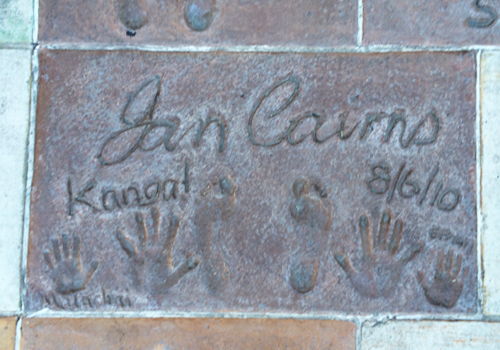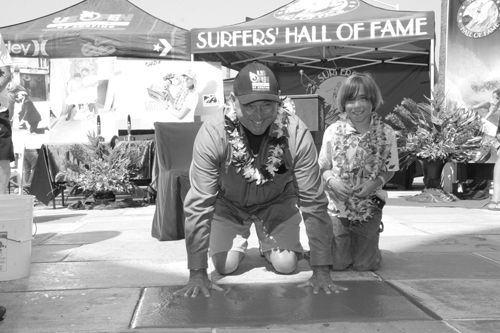 Cairns was influential in the development of American surfing (and surfers), adding structure to the nascent sport and creating a "clear path to follow."  Under his direction, the venerable Op Pro Surfing Championships produced some of the most memorable clashes in surfing history and created a world-class "stadium" venue to showcase the sport.  The Bud Tour received extensive media coverage and jump-started the careers of a new crop of Americans led by Kelly Slater, Taylor Knox, Rob Machado, Shane Beschen and Pat O'Connell.
Among myriad achievements ranging from co-founder of the Bronzed Aussies, appearances in two-dozen surf movies and overseeing the Bluetorch media company, perhaps the most indelible mark Cairns made in the world of surfing is the gargantuan U.S. Open.  Prior to taking a brief hiatus from the sport, Cairns helped lay the foundation for the U.S. Open to become the world's largest professional surfing competition and a consumer showcase for the sport.
"Ian Cairns is a true Surfing Legend who continually pours his heart and soul into our Sport," said Surfers' Hall of Fame founder Aaron Pai.  "Big Wave Surfer, fierce competitor and currently the head coach of the USA Surf Team, we are very honored that he will be inducted into the Surfers' Hall of Fame this summer!"
Wayne "Rabbit" Bartholomew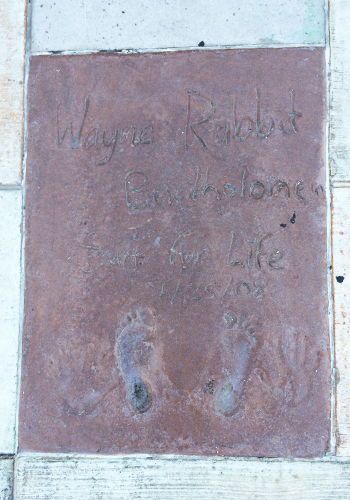 Hailing from Australia's famed Gold Coast Bartholomew was crowned world champion in 1978 and is a two-time "Masters" champion. 
Currently president of the Association of Surfing Professionals (ASP), Rabbit burst onto the international scene in 1975, an era during which saw the likes of Shaun Tomson, Mark Richards, Ian Cairns and Peter Townend vying for world titles. 
"Bugs" has had a huge influence on the sport from the '70s through today, taking tube riding to new levels and mentoring such standout pros as Gary Elkerton and Sunny Garcia.  Bartholomew plays a prominent role in the all-new documentary, "Bustin Down the Door."