Rusty Preisendorfer
    Nicknamed the "Stradivarious" of shapers due to his reputation for quality and innovation, Rusty was born in Los Angeles to a research mathematician (his father worked at Scripps) and an occupational therapist.  He became a Windansea local at a fresh six weeks of age and eventually entered  shaping during a groundbreaking era with influences that included Dick Brewer, Mike Hynson and Skip Frye.  While attending the University of California at San Diego, he spent his initial stint shaping for Gordon and Smith. Exploring Australia in 1974, he garnered his first serious exposure when Rabbit Bartholomew purchased one of his 8-foot guns.
Starting to gain a solid reputation in the business, he launched his own company the same year — Music Surfboards. T he late '70s proved a pivotal time, as Rusty shaped for a growing San Diego-based manufacturer called Canyon Surfboards and worked with a reputable stable of world-class riders including David Barr, Randy and Wes Laine, Peter Townend, Shaun Tomson and Ian Cairns.
In 1985 Rusty left Canyon and launched Rusty Surfboards.  The iconic R-dot logo boards were ridden by more than half the world's Top 16 surfers at the time and Rusty was the most in-demand shaper anywhere.  He launched a full line of clothing in 1988, growing the business into  one of the industry's largest-grossing companies and helped launch the careers of Serena Brooke, Pat O'Connell and CJ and Damien Hobgood.  After selling the clothing side of Rusty in 2007, he renewed his focus on making surfboards, experimenting with every type of post-Clark construction from sandwiches to epoxies to parabolics.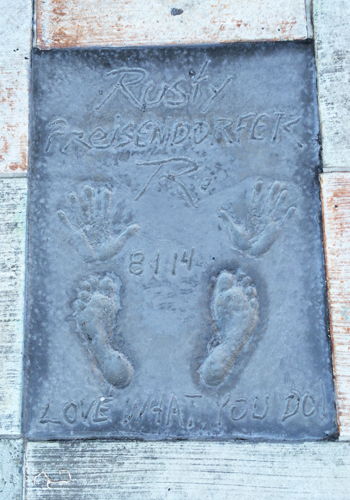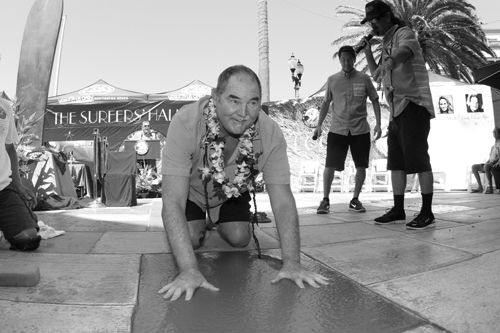 As a shaper, Preisendorfer deserves credit for perfecting the modern thruster as we know it. Subtle variations are all that separate the current standard from his early '80s models.  The boxy rails that are so commonplace today were the benchmark of Occy's boards during his phenomenal run as a teenager.
Surfer ranked Preisendorfer fifth on a 2002 list of the "25 Most Powerful People in Surfing" while Surfing magazine named him one of the "10 Best Shapers of All Time," in 2004 and their "Shaper of the Year" in 2008 for his command of the myriad technologies.  SIMA will honor Rusty for his extensive impact on the surfing world with the Lifetime Achievement Award at the Waterman's Ball.
"Rusty Preisendorfer is a great surfer, a great waterman and a Legendary Shaper," said Surfers' Hall of Fame Founder Aaron Pai.  "Rusty perfected the modern thruster as we know it, has always been a major leader in Surfboard technology and innovation…. Most of all though…Rusty Preisendorfer is just a fun person to be around and a super nice guy!  We are very honored and excited to induct Rusty Preisendorfer into the Surfers' Hall of Fame!"
Carissa Moore
Carissa was born in 1992 in Honolulu and began riding waves with her father at age five.  In 2004 the 12 year-old began a remarkable competitive run, winning the first of four National Scholastic Surfing Association "open division" women's titles.  She became the most decorated surfer in NSSA history with 11 national titles.
Already a two-time ASP World Champion (2011 & 2013) and two-time U.S. Open Champion (2010 & 2013), the 21 year-old was the youngest-ever winner in the prestigious Triple Crown of Surfing at age 16 and won the Surfer Poll Award for top female surfer in 2011.  In 2007, at age 14, Carissa finished second at the Roxy Pro Gold Coast ASP event, twice defeating seven-time world champ Layne Beachley.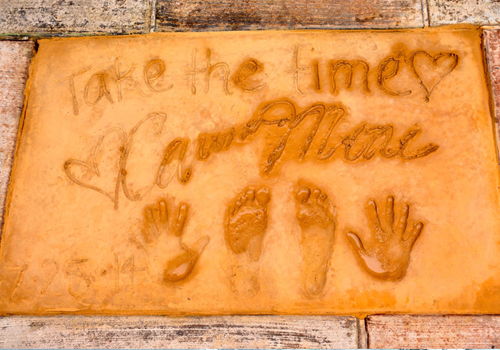 By 2009 Moore had signed lucrative endorsement deals with Nike and Target, reportedly becoming the highest paid female surfer in the world.  She finished third on the World Tour in 2010, won the largest purse in history ($50,000 at the U.S. Open) and was named Rookie of the Year.  The following year Carissa made the finals of all six and won three of the World Tour events, dispatching four-time world champion Stephanie Gilmore on her way to the title.
Following a disappointing 2012, Moore stormed back in 2013 winning four and finishing in the top five of all eight events to secure her second world crown.  Her torrid pace continues this year where she's already won two events and currently sits atop the leader board in the world title race.
"Carissa Moore may be one of the most gifted athletes to ever set foot on a surfboard," said Bob Hurley.  "It was obvious, when she was only 9 years old, that she had potential to revolutionize women's surfing.  While her fiercely competitive nature will likely lead her to more world titles….  The important thing to know is that Carissa is gifted with a heart of gold.  A  magical smile that lights up the room, and unique ability to make others feel much more important than herself."
Timmy Turner
Huntington Beach's favorite son Timmy Turner is a living miracle.  Born in 1980, Captain of the Huntington Beach High School surf team and busboy at his family's restaurant, The Sugar Shack, a surf trip to Indonesia at age 17 became the catalyst for a burgeoning filmmaking career.  Over the span of three years and numerous trips to an uninhabited Indonesian island, Timmy documented three surfers conquering epic waves on a dangerous reef, braving the elements and struggling to survive.  "Second Thoughts" won Movie of the Year at the 2004 SURFER Poll and Video Awards, putting Turner on the map.
His next film, "The Tsunami Diaries," which documented relief efforts in Indonesia, may have contributed to an aggressive staph infection that attacked the Turner's brain in December 2005; friends and family say that he was acting crazy for three days.  Timmy underwent six different brain surgeries, losing most of his skull and spending more than a month in the intensive-care unit of Hoag Memorial Hospital.  Forced to wear a helmet for protection before his skull was rebuilt, Timmy survived, but was forced to recalculate his life.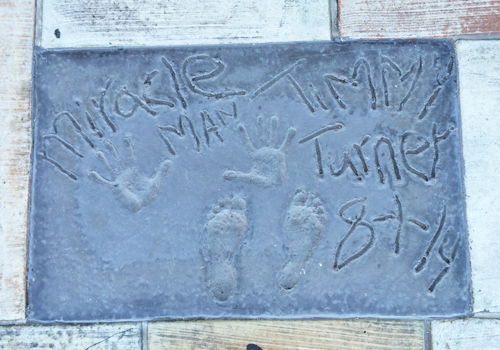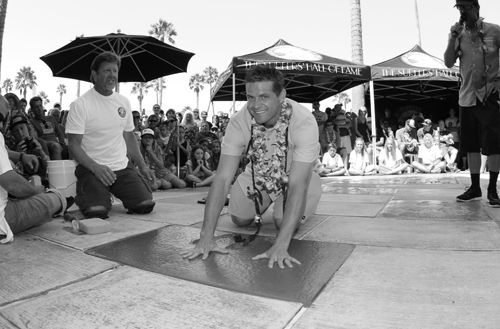 A subsequent film, "Cold Thoughts," was a tribute to his journey: hospitalization, rehab, recovery and lifestyle changes to ward off future infections, including a ban on trips to tropical climates.  Six years in the making, Timmy and crew sought surf in remote and frigid spots in Canada, Chile, Iceland and Alaska to film "Cold Thoughts".  While filming in 2006 in Vancouver, he hit the rocks, broke his ribs and cracked his protective helmet.  Had Timmy not been wearing that helmet, doctors said he most likely would have died.
In late 2013 the father of five was finally allowed by doctors and family to make his return to the place and the waves he loves so much: a dry left hander in Indonesia.
"Born and raised in Huntington Beach, Timmy Turner is a great soul surfer, amazing movie maker and has become one of the city's most famous sons," said Surfers' Hall of Fame founder Aaron Pai.  "He's brought so many precious memories to all of us through his surfing out at the Pier, movies at Huntington Beach High and seeing him serving breakfast at the Sugar Shack!"