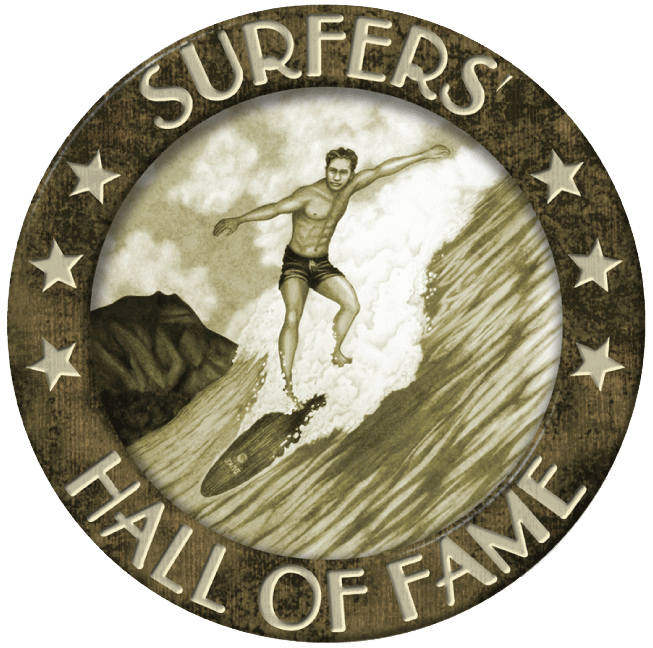 The nation's first imprint collection of legendary surfers...
BLAINE "SUMO" SATO TO ENTER SURFERS' HALL OF FAME
HUNTINGTON BEACH, Calif. – Blaine Hiroshi "Sumo" Sato, an amazing diver, fisherman, regular charger on the north side and Pastor of the H20 Community Church in Huntington Beach is one of three local legends being inducted into the 2016 Surfers' Hall Sumo joins Ryan Turner, a former captain of the acclaimed Huntington Beach High School Surf Team and perhaps the best unknown surfer and legendary tube rider in the world and Shawn Stussy, who surfed the Huntington Beach Pier in the 1960s and once shaped for Chuck Dent, and launched Stussy, Inc. in 1980. All three will have their han  and footprints immortalized in cement for the ages on Friday, July 29th at 9:30 a.m. in front of Huntington Surf & Sport.
"Pastor Sumo is just the happiest, most pleasant guy and has always been there for Surfing and the Surfing Community," said Surfers' Hall of Fame founder Aaron Pai. "Evenm if you never get to personally know Sumo, know this... he's the kind of man our world needs more of. We are honored and proud that Pastor Sumo Sato is being inducted into the Surfers' Hall of Fame!"
Born on June 4 1962 in Honolulu, Hawaii, Blaine "Sumo" Sato is a waterman, family man and he's had success as a professional chef. While often found charging waves on the north side of the Huntington Beach Pier on a colossal 12-foot longboard stout enough to carry his burly Hawaiian frame, Sumo's real passion is serving the Lord. Pastor Sumo's church, "H20," serves the homeless, surfers in recovery, residents in crisis, be it spiritual, physical or otherwise. He has officiated marriages, baptisms and memorial services (Andy Irons, Sean Collins and Chris Love); offering comfort when we grieve, and shares our tears of joy when we are elated!
Sumo was raised on both Oahu and the Big Island, part of an extended family of nearly two dozen relatives. His mother taught him to surf at Makapuu and he counts Ben Aipa, Junior Moepono and the late Buttons Kaluhiokalani as his early surfing influences. Sumo's surfing travels have taken him to Fiji, Tahiti, Australia, Japan and the Philippines. Among his favorite surfers today are Kelly Slater and Sunny Garcia. Sumo survived a brush with drugs as a teenager, nearly succumbing to the Hawaiian drug scene in the 1970s. A chance meeting with a missionary changed his life, and instead of ending up in prison he became a disciple of God. Sato moved to California in 1990 and pursued a master of Divinity degree. He spent several years travelling between Hawaii and California, spreading the gospel and forming churches, and riding the waves when time permitted. In 2011, Pastor Sumo helped form the H20 Community Church in Huntington Beach and also serves as the chaplain for the city's Marine Safety Division.
Earlier this year, life threw Pastor Sumo a curveball when he was diagnosed with Stage 4 colon cancer. The surf community rallied to raise funds for his healthcare and recently Sumo underwent an 11 hour surgery to remove two malignant tumors. Pastor Sumo has a long road to recovery, but with his loving wife, Diane and his family's unwavering support, he is optimistic and his faith in God is even stronger. Sumo is stoked on surfing, getting better and paying homage to the legends that made surfing what it is today. While the Palapu Kailua shore break helped define his surfing style as a young man, today he's a rather imposing individual and a regular on the north side of the Huntington Beach Pier. After all that he's been through, his sense of humor remains intact as he tells the story, "of a 30lb grom calling me a kook during a recent surf