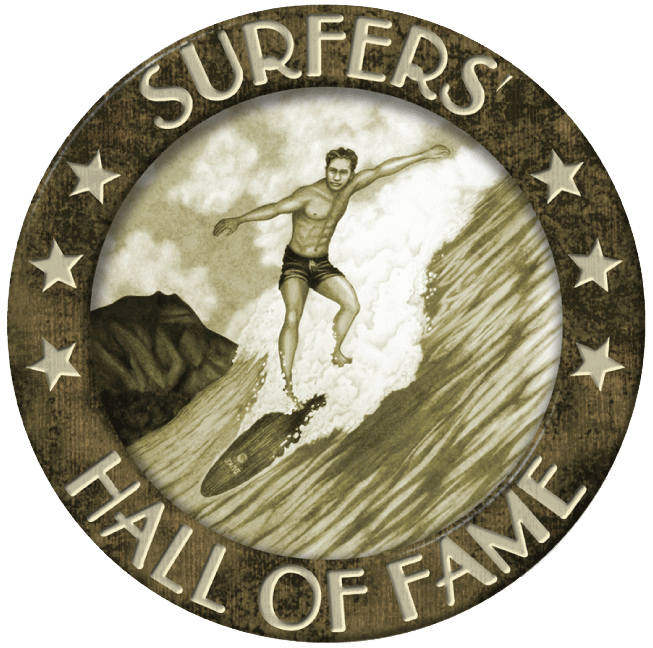 The nation's first imprint collection of legendary surfers...
SURFERS' HALL OF FAME TO HONOR STUSSY, INC. FOUNDER SHAWN STUSSY
HUNTINGTON BEACH, Calif. – Shawn Stussy, who traces his surfing roots to Huntington Beach and whose namesake company Stussy, Inc. went on to become one of the biggest street wear labels of the 1980s and 90s, is among three local legends being inducted into the 2016 Surfers' Hall of Fame. Stussy joins Ryan Turner, a former captain of the acclaimed Huntington Beach High School Surf Team and perhaps the best unknown surfer and legendary tube rider in the world and Blaine "Sumo" Sato, an amazing diver, fisherman, regular charger on the north side and Pastor of the H20 Community Church in Huntington Beach as the 2016 inductees. All three will have their hand and footprints immortalized in cement for the ages on Friday, July 29th at 9:30 a.m. in front of Huntington Surf & Sport.
"We're stoked and excited to induct Shawn Stussy into the 2016 Surfers' Hall of Fame," said founder Aaron Pai. "Shawn has deep roots in Huntington Beach; both surfing at the pier and shaping boards locally for Chuck Dent and Russell Surfboards. His impact on the surf industry and youth culture was felt worldwide and continues today. He is the heart and soul of our surf industry." Stussy, Inc. bears the name of designer Shawn Stussy, who started surfing at the Huntington Beach Pier in 1968 just as the sport was gaining wide recognition in popular music and movies.
Born in 1954, Shawn grew up immersed in West Coast surf-culture.m By the age of 13, Stussy began to design and shape his own surfboards in the family garage; creating his first board out of an older sister's log, which he stripped and reshaped. Shawn was so talented that as a 15-year-old high school student he was hired by Chuck Dent in Huntington Beach. From 1973 to 1980 Shawn shaped for Russell Surfboards on 17th street in Huntington Beach, also called "The Brotherhood".
In 1980 at age 25, Stussy gave up his itinerant ways and launched his own business, shaping surfboards in his Laguna Canyon studio during the day and at night boxed T- shirts for sale in area surf shops. To brand his handiwork he took a large marker and scrawled his signature on the finished boards which soon became his trademark and logo. "I had the logo screen printed on T-shirts and sweatshirts, but it had nothing to do with producing clothes. I was trying to promote the boards." While Stussy may have viewed his clothing ventures as a sideline that helped spur the sale of his surfboards, an old surfing buddy named Frank Sinatra, Jr. (no relation to the famous singer) saw greater potential. In 1983, they joined forces and in 1984 established Stussy Inc. with Stussy handling design and Sinatra shouldering the business responsibilities. It was on March 27, 1986 that the company registered the Stussy trademark in the United States.
According to the Encyclopedia of Surfing, Stussy was one of the most influential street-b fashion labels in the 1990s. "Stussy's original surf line—identified by the owner's calligraphic signature—was elegant and understated at a time when surfwear in general was at its loudest and gaudiest." By the time Shawn was 35 years old, he was regarded as one of the world's hippest surfers/entrepreneurs. Harnessing an international following, Stussy's influences from surf, skate, hip-hop and club culture made it synonymous to youth, catering for a myriad of identities under its iconic logo.
Stussy went on to become one of the biggest street wear labels of the 1980s and 90s, reportedly reaching a value of $20 million in 1992. To this very day, there are few brands more iconic within the streetwear realm than Stussy. And there are even fewer that have exhibited the same staying power as the Californian-born label.
Shawn sold his interest in 1996 citing the desire to spend more time with his wife and sonin Hawaii, and has been surfing and raising his family since. He still shapes in SantaBarbara on a regular basis and has a new shaping and design project called S/Double.