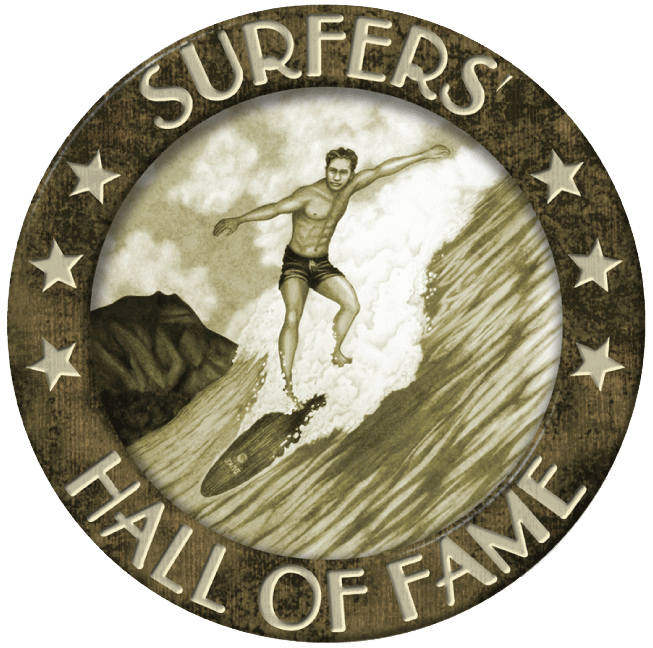 The nation's first imprint collection of legendary surfers...
RYAN TURNER JOINS BROTHER TIMMY IN THE SURFERS' HALL OF FAME
HUNTINGTON BEACH, Calif. – Ryan Turner, a former captain of the acclaimed Huntington Beach High School Surf Team and perhaps the best unknown surfer and legendary tube rider in the world, is the third and final local legend to be inducted into the 2016 Surfers' Hall of Fame. Turner is joining Shawn Stussy, who surfed the Huntington Beach Pier in the 1960s, once shaped locally for Chuck Dent and is best known for lauching Stussy, Inc. in 1980 and Blaine "Sumo" Sato, an amazing diver, fisherman, regular charger on the north side and Pastor of the H20 Community Church in Huntington Beach.
All three 2016 inductees will have their hand and footprints immortalized in cement for the ages on Friday, July 29th at 9:30 a.m. in front of Huntington Surf & Sport; under the watchful eye of Duke Kahanamoku, the sport's spiritual leader whose statue anchors the Surfers' Hall of Fame. This year's induction ceremony features the inductees, family, friends, pro surfers and industry titans, and is open to the public, free-of-charge. Further information is available at http://hsssurf.com/shof/. "Ryan Turner is considered the 'best unknown Surfer in the World', is a home grown, low key big wave charger...and one of the greatest to come from our town of Huntington," said Surfers' Hall of Fame founder Aaron Pai! "Super humble and nice person!
So stoked and excited to induct Ryan into the Surfers' Hall of Fame later this month!" Ryan Turner is a great surfer, mentor, big wave charger and pillar of the Huntington Beach surfing community, running the Famous Sugar Shack Restaurant that his family has owned since the 60's! With younger brother and acclaimed surf filmmaker Timmy (a 2014 Surfers' Hall of Fame inductee) life from an early age was about the beach and surfing.
Born on May 28, 1979 in Long Beach, Ryan Turner learned to surf at age five on a $5 board with a duct-taped nose purchased from Chuck Dent Surf Shop. Ryan's earliest surfing idol was Bud Llamas, but later he would include Tom Curren, Kelly Slater and the Irons Brothers on that list. He recalls watching Llamas do the first backside aerial, thinking it was nuts remembering it like it was yesterday to this day. While his father, Mike Downey and Scott "Pod" Baneulos were his teachers, Ryan counts his brother Timmy and Coach Verdone as having the most influence on him. "Surfing side by side for so many years, Timmy always pushed me to get better waves. Coach Verdone took me around the world at a young age...and we learned a lot."
Sponsored by Rusty as a teenager, Ryan enjoyed a lot of junior surf contest success, but as he got older it was travel and surfing solid barrels which focused his surfing talent. He captained the Huntington Beach High School surf team to the NSSA Team Title. Many times he would win heats for his team riding a shortboard, longboard and Boogie Board.
Ryan traveled around the world in High School; to Australia, Hawaii, Mexico and South Africa while competing for his team. Later as an adult, he chaperoned a trip to Jeffrey's Bay for the high school team team with a young Brett Simpson on the trip. "Ryan is very humble in a sport of self promoters," said legendary Huntington Beach High School Coach Andy Vendone. "He is a great leader who led his team to a National Title 18 years ago and Huntington Beach High just won again for the first time since. Without his resolve we would not have won. Like riding a big wave, once Ryan makes his mind up, he will never back off!"
Considered the "best unknown surfer in the world" by Coach Verdone, Ryan is one of the top 10 backside barrel riders in the world and has proven this point again and again with his many Indonesia surfing trips. It doesn't matter where you put Ryan, Mexico, Canada or Indonesia the chances are he will be the man notching up the most tube time. With this reputation for tube riding, Ryan receives yearly invitations to the Padang Padang Cup in Bali, among the most coveted barrel riding events in the world. He proved in 2009 that he ranked among the world's best tube riders, losing only in the semi-final to Jamie O'Brien, a future Pipeline Masters Champion, by less than two points. In Mainland Mexico, Ryan also finished 3rd at Puerto during another Barrel riding event; scoring a perfect 10 along the way. When he isn't getting shacked in Mexico or Indo, Ryan is back in Huntington, surfing the pier, pulling shifts in the family restaurant and hanging with his wife Jen and their children Colby (age 11), Bailey (7) and Ryder (5) who all surf. Any traveling surfer worth their salt has come in and swapped surf stories with Ryan...over a plate of eggs with a cup of coffee on Main Street, Surf City, USA!
"One of my favorite memories was driving my wife and one year old 14 hours to SuperSucks in Sambawa, Indonesia," said Ryan. "A few days later the surf was the best I've ever seen it; six foot-plus, no backs and empty. I surfed for six hours and when I came in, my wife was ready to go because she was done chasing our son colby around the jungle with the snakes. So we loaded up , grabbed a whole chicken with the feet still on and smiled the whole drive and ferries back to Bali. They were such troopers. I got the best waves and experiences with them."